Hello everyone! How was everybody's week? Good, I hope. :D
Today I bring you what I wore on my eyes today and how I transitioned the look for nighttime.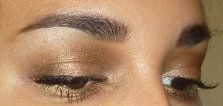 Easy, simple but pretty. I used Demi Wispies lashes... BUT those are a pair I had cut in half since I'd been wanting to use 'em as half lashes. So, I ended up stacking both together and ta-da! Perfect half lashes. I'm going to need to buy a new pair of DW, though coz these are getting all old. XD
To amp it up for tonight I added:
Maybelline Color Tattoo in Test my Teal
-Third brown in the left side of Wet N Wild Comfort Zone palette
-MAC Midnight Blues fluidline
I'll be posting a haul tomorrow! I took the pictures today and cropped them but fer sure will be posting it tomorrow. :)
It's not a wham-bam-thank-you-ma'am in one go haul, though.
I hope everyone has a great Friday! :D