Hiya everyone! I wore this look yesterday. I was just in a purple mood... maybe haha. I've been realizing that this is fast becoming a favorite color of mine. My comforter/pillows are purple, I have pretty purple flowers (of unknown name) in my room, I'm thinking of painting my walls lilac... it's like I've got bitten by the purple bug! I had been wanting to do a purple look for a while, but not wholly purple... maybe pair it with neutrals... well, see for yourself! :)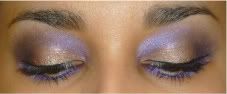 Above crease, lower lashline
-UD 24/7 pencil liner in Ransom
-UD 24/7 liquid liner in Perversion
-Maybelline the Colossal Volum' Express mascara
When I looked at myself after finishing this look I thought it looked like someone punched me... but then it started to grow on me. ;) I think it might've looked a bit better had I put false lashes on; I find that extreme looks like this (and by extreme I mean I take color way above my crease) look better with 'em. Next time!
On my cheeks I dusted some of MAC's Sakura mineralize blush (which is of a purple hue), highlighted my cheekbones with Lightscapade and used Revlon's Velvet Rose super lustrous lipstick. I know if I used purple lipstick it would have been WAY over the top, haha.
Anywho, I hope everyone has a great day! 'Til next time.