I've had a hankering to use Antiqued again. I had previously used it in a look inspired from one of Temptalia's past tutorials and while I liked how it looked... I felt like it was missing something. I was actually going to post it as a FOTD look but I couldn't find the right lipstick and/or lipgloss and the pictures just seemed... off. Maybe one day I'll try to recreate it, with better results. :)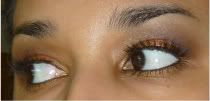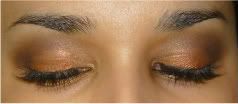 Face
Cheeks
Lips
-Wet N Wild matte lipstick in 903C
-MAC Fold and Tuck lipglass
Eyes
-MAC Take Wing (from Take Wing quad)
-MAC Bronze (from
Surf the Ocean stack)
Once again, my lash application was on my right eye a little off. PORQUE DIOS MIO?! I guess I am just a bit out of practice. :P
I really loved the lip combo for this look, I thought it went really paired with the eyes.
I guess I'm just a sucker for browns, golds and neutrals in general. But I do love bright colors and punching things up once in a while. ;)
That's all for today folks!