On Thursday May 26th, Surf Baby launched at MAC. I've been waiting for this collection since February and since I LOVED To the Beach from last year, I had high hopes for this one. It definitely delivered. :D
I (originally) bought: Surf USA and Sun Blonde eyeshadows, Blue Noon liner, My Paradise "cheek powder" (aka blush), Hibiscus lipstick and Krazy Kahuna lipgloss. :)
My appointment was at noon and I arrived around five minutes early to sort of ooh and ahh over the products and I must say... my eyes immediately went to My Paradise. I swatched it on my hand and I was in love.
My MA asked me what look I had in mind and I told her I wanted something bright. She asked me if I wanted any colors in particular and told her I just wanted the teals on my bottom lashline and to do whatever she wanted on my top lid. :)
She was so nice and informative, I really liked her. Will be going back to her to buy a new foundation... but that's a post for another day.
For my face/skin, she ended up using Studio Sculpt foundation (love!) and MSF to set the foundation. On my eyes, she used Bronze from Surf the Ocean stack on my lid (I nearly swooned when I swatched that on my hand!), Brown Script on my crease, Short Shorts as my brow highlight, Blue Noon and Surf USA on my bottom lashline. On my lips she wanted to use Hibiscus on me and I suggested Krazy Kahuna, just for kicks. And may I saw WOWZA! I loved that pairing! So much that I ended up buying Krazy Kahuna even though it wasn't on my list! I really liked the look she gave me. Thanks, Laurie (wherever you are)! I ended up buying Blue Noon since it seemed very different (at least to my eyes) than last year's Float on By. I swatched Saffron and Swell Baby (two from my list) and was less than impressed with Saffron's pigmentation so I skipped on that one. With Swell Baby, though, I sort of hesitated but ended up not taking it. I had also wanted Good Lovin' but someone over on Specktra posted a link which showed that Prrr, a lipglass from the permanent line, is a dupe for Good Lovin' and well, I just had to see for myself. Sure enough, they looked alike; Good Lovin' leaned to the peachier side while Prrr leaned to the pinkier side. I was sure that they'd look the same on the lips, or close enough anyway, so I passed. :)
My mom had also gone with me and she also fell in love with My Paradise. After Laurie (sorry if I'm not spelling your name correctly!) finished with me, I asked her if she could apply MP to my mom and it looked great on her too. I asked my mom if she was going to take it and she (jokingly) told me that she didn't wan't to have a MAC addiction too LOL. She asked me if this was a product that would be sold for a limited time (yes) and I did not hesitate to tell her it would sell out like hotcakes. Despite my words and warnings, she did not buy it. :(
Yesterday however, she asked me to go on an errand with her and we ended up at the mall (surprise, surprise) and she ended up buying My Paradise and I was going to buy Brown Script, since it had turned a lovely rusty orange on me (which I was what I had hoped Saffron would be) and just for kicks I went to swatch Saffron again. YOWZA! Somehow, this baby was pigmented today! It later occurred to me since I had pumped some concealer with moisturizer (I used it as foundation, yes), therefore creating some sort of base for the color to apply smoothly and plenty pigmented. I also swatched Swell Baby again and after showing it to my mom, she liked it (since she had also been looking for a grey shade) and bought it for us. Not completely helping myself (do I ever? -_-) I swatched Surf the Ocean stack and couldn't help but fall in love. It was so pretty that even my mom loved it too. I swatched Summer Stash on my other hand, and while it's beautiful, it didn't have the same impact as Surf the Ocean did. So my mom, being the best mom in the world, said to ask for it!
Surf USA, Sun Blonde, Swell Baby, Saffron eyeshadows
Surf the Ocean metallic pigment stack
Blue Noon powerpoint eye pencil (what a mouthful)
My Paradise cheek powder
Product pictures
I will be posting swatches tomorrow, probably. :)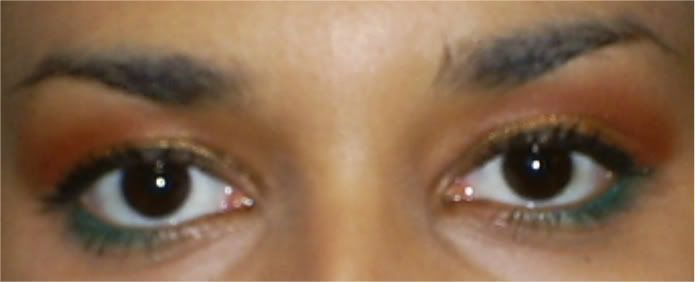 -White shimmery shadow+yellowy shimmer shadow from Wet n Wild Pride and Vanity palettes
Used in the inner part of lids
Used in the rest of the lid
- MAC Blue Noon powerpoint eye pencil
Used to set the liner on the lower lashline
-MAC Blacktrack gel liner
-Maybelline Full and Soft mascara
-White shimmery shadow from Wet n Wild Pride palette
BEOTD (5/28/11)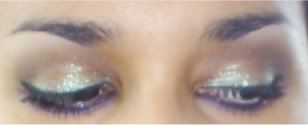 UD PP
Aquamarine from Surf the Ocean Stack (lid)
MAC Swell Baby (crease)
MAC Push the Edge pigment (lower lashline)
Barry M. Dazzledust in 89 (patted lightly over Push the Edge)
NYX Frosted Lilac (blended under Push the Edge to soften the line a bit)
Wet n Wild Greed palette, light matte color (brow highlight)
MAC Blacktrack liner
Maybelline Full 'N Soft mascara
Also, wanted to add (since a while ago I made a post regarding to this) that I can now post pictures (as is evidenced in this post lol), follow people (sounds creepier than it actually is) and comment on people's posts again! Keep it up, Blogger staff!
Hopefully it won't happen again. Now that I started posting more, I have really come to like it. XD
Also, seeing all my craptasic pictures makes me realize I seriously need a new camera haha.